The coronavirus pandemic created huge challenges for many but for Sean Cave being part of the rugby family at Trentham Rugby Club has seen him come back from furlough and eventual redundancy with a career change.
A youth coach and former player, Sean enjoyed running the club bar as a volunteer and during lockdown he became central to reorganising clubhouse facilities.
"I really threw myself into it, and we redid all the upstairs of the club," he says. "I found it really satisfying and when I was wondering what to do, a few people suggested a cafe."
Previously a security consultant who advised on close protection, having left the Royal Medical Corps in the 90s, Sean enjoyed his voluntary role in hospitality at his club, where he found a home for his new venture, Cavey's Café.
His three sons all either played or are still playing at the club. Kyle played through Colts into the seniors, Luke is still playing senior rugby and Miles is in the U16s and Leicester Tiger Development Pathway.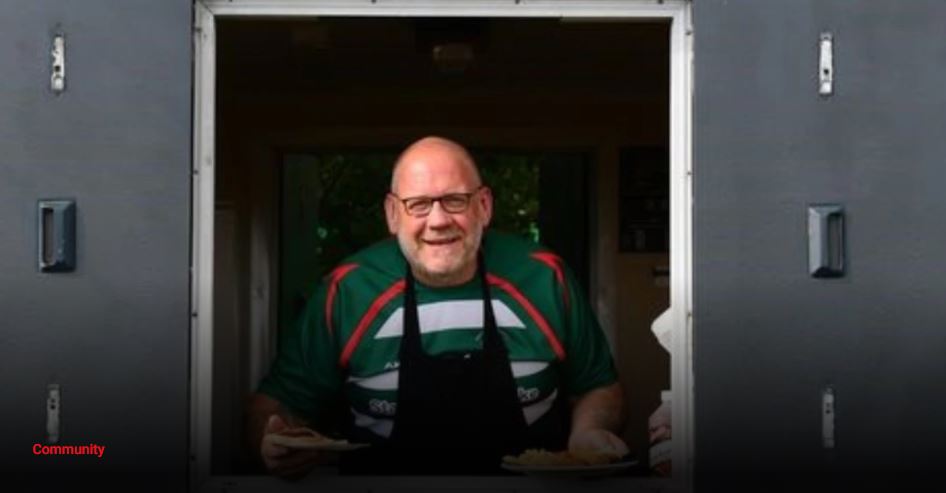 Said Trentham chair, Steve Ashworth: "We are very happy to have Sean's café on site.  He was a key driver for our club refurbishment, coaches at the club and is a very active committee member, as well as being a good cook."
Good Staffordshire breakfasts are a speciality says Sean: "Everyone loves a tasty breakfast, so I started with that. I'm hoping players and supporters will call in as well as the locals. With 500 houses being built nearby in the coming years, hopefully the builders will be looking for a good breakfast and the new residents will both come to the café and join the rugby club."
Cavey's Cafe's signature breakfast is titled Forwards and Backs. "The Forwards version is bigger," laughs Sean, who played in the second row. "It comes with extra black pudding, more sausage, more bacon, plus the oatcake, hash brown, chips – plenty of carbs. The Backs is a bit lighter, more suited to running around. We do other breakfasts too, but so far, those are the popular ones."
With plans for a lunch menu and an outdoor seating area, Sean says: "We'll see how things go and adapt as needed. My partner Sharon is great at organising, and I love cooking. My youngest son Miles is helping out through the school holidays, so it's a real family, just like rugby."