As outlined in the Community Game Update on 21 June, and following RFU Council's approval of the regulations for 2022-23, we can share the key changes to the age grade regulations for next season.  These are covered in a new version of the Age Grade Changes document, which we hope will help clubs, schools and colleges with their planning.
A reminder that the new regulations start on 1 August each year.  This is when age grade players move up to their new age group and the new playing rules and regulations begin.  The full regulation documents (including Regulation 15 for Age Grade Rugby) will be available by 1 August on our Regulations pages.
Summer Activity Guide – July
We will  shortly move to July on the Summer Activity Guide, where we have created the specific graphic below for you to share.
There will be greater scope for activity than usual in this off-season of the framework, aiming to retain and build player connections.  However, we stress you don't have to do summer activities, most people will choose to either come and go or have a complete break.
This now means age-grade activities can draw from May, June and eventually July.  Please remember, the framework is regulation, so while there is flex to go back on the progression, please don't step over the threshold for the current month.  In addition, approval for Festivals is still required from your CB as per Regulation 15.9.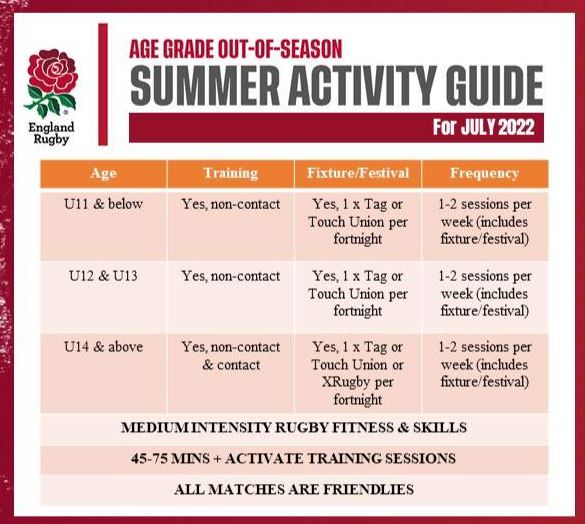 17-Year-Olds Playing Adult Rugby – Summer Sevens & Events
The regulations for 17-year-olds playing adult contact rugby still exist in the off-season; Regulation 15.6 applies year-round.  The circumstances, assessment and approval requirements must be followed, in full, before a 17-year-old plays or trains in adult contact rugby of any format.  No player younger than 17 can play adult contact rugby under any circumstances.
The approval forms and process for 17-year-olds can be found under Regulation 15 here.