Eccleshall RUFC and Staffordshire Rugby Union are so proud that "our" Becky Davies has been chosen to be part of the 2021 World Rugby Women's Executive Leadership Scholarship Programme.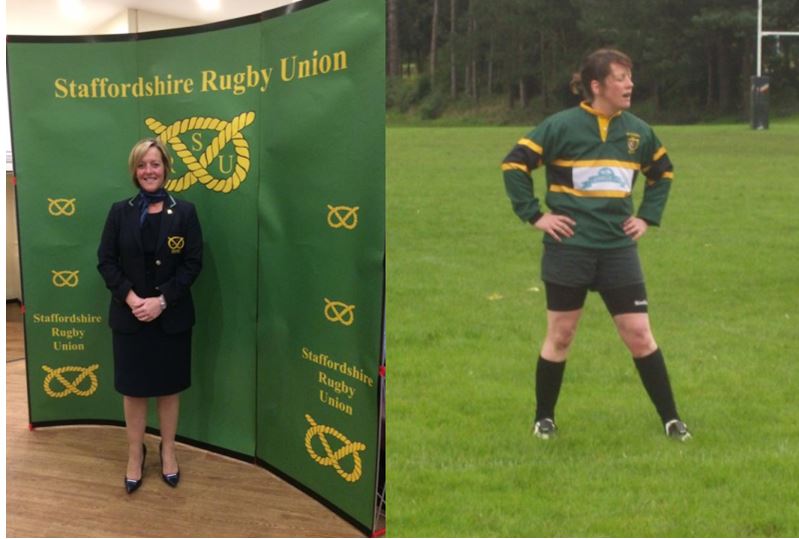 Becky is one of only twelve recipients identified across the globe to enrol in this year's Executive Leadership Programme. An opportunity that she will no doubt take with both hands, a mantra she learned in training as a founder member of our Eccleshall RUFC Ladies team nearly 20 years ago.
During her playing days at Baden Hall, Becky took on the Chairmanship of our growing Junior Section and along with others, laid the foundation for the vibrant and inclusive section that we have today. Becky has also used her talents to raise the profile of volunteers in rugby across Staffordshire and beyond. First as Staffordshire RFU Volunteer Co-ordinator and then when elected to serve from 2016 -2018, first as Vice President and then President of the Staffordshire Rugby Union. Never far from the action on the pitch and at the "coal face" Becky returned to ERUFC, after her time on County duties, and has for the last 3 seasons been and we are relieved to say, will continue to be our club physio and ERUFC Club Secretary.
Alongside her continued commitment to Eccleshall, Becky has continued her work on behalf of all Staffordshire clubs and rugby as Chair of the SRU Clubs Committee, and as a member of the RFU's Constituent Body and Club Development Sub-Committee at Twickenham. Becky is also a mentor for the National Women and Girls RFU Leadership Academy and has most recently helped deliver the National Women's and Girls Leaders programme.
World Rugby Women's Executive Leadership Scholarship programme is open to women in rugby who are currently involved at governance or senior management or have the potential to be a senior manager or union/regional association board member in the sport within two years. Becky will be provided with the opportunity to be mentored by, and network with, some of the finest sports leaders and administrators from across the world. The scholarship will ensure Becky will experience and learn first-hand from not just rugby but a variety of sports and leadership organisations at the very top of their game globally.
Becky is passionate about the benefits and opportunities that rugby can offer to those all involved, both on and off the field and determined that her journey over the next 18 months of the programme will provide a lasting legacy within rugby. A legacy that will endeavour to establish a broad and inclusive pathway for those involved in all aspects of our game, enabling them, should they wish, to influence its direction and administration.
Becky when asked how she felt has advised. "I am overwhelmed to be the first 'England Rugby' representative to have been awarded the World Rugby Executive Leadership Scholarship for Women. It is an exceptional privilege to have been selected and whilst the scholarship is directed at promoting and developing my own personal leadership skills, i am committed through the learning experience I anticipate with World Rugby to return the benefit and create further exciting opportunities for all the incredible volunteers that have the ambition to drive, strengthen and grow the game in our country!
On behalf of Eccleshall RUFC Club Chairman Paul Firth
"Over the years that I have had the pleasure of knowing Becky she has always thrown herself completely into anything she has set her mind too. Be that on or off the pitch; playing for Eccleshall Ladies XV, running our Junior section or when she spread her wings to take the helm at Staffs RFU. Her enthusiasm, commitment and all-round ability make her the perfect choice for this leadership scholarship and the fact that Becky has won one of only twelve awards against worldwide competition reflects this. I am proud to be able to count her as a friend and colleague in rugby and wish her all the best with this next step. If it helps to have friends in high places then Eccleshall rugby club are lucky to have Becky."