With season 2021-22 already in progress at League Levels 5 and 6 plus cup and friendly games taking place for other county club sides, it looks like we are experiencing normality returning to our clubs – at least for the time being. Consequently, officials from the SRU have already begun their visits to clubs to see how they are returning to action both on and off the pitch.
After an enjoyable trip to Lichfield on the opening weekend, when the Myrtle Greens dispatched Sutton Coldfield 59-19, President/Chairman Rob Forsyth, RFU Council Member Mick Procter, Vice President John McDermott and immediate Past President John Atkin travelled to Stoke on Trent last Saturday for their fixture with Newbold on Avon – and it was the Potteries side which took the honours 32-18 to make it two wins out of two to begin their Midlands 1 West campaign.
The SRU party took the opportunity to present Mitsubishi Volunteer Recognition Awards to members of the "Hartwell Cocoon Group" whereby club members would "buddy up" with the more senior members of the club and provide help in a variety of ways from collecting shopping and prescriptions to social contact and activities during the lockdown periods.
Pictured alongside Rob Forsyth receiving their certificates are Simon Ascroft, Jordan Grimshaw, and Club Chairman Steve Maskrey (who had received his award earlier). Two more recipients, Hilary Maskrey and Jamie Loska, were unable to be present on the day and will receive their awards from club officials.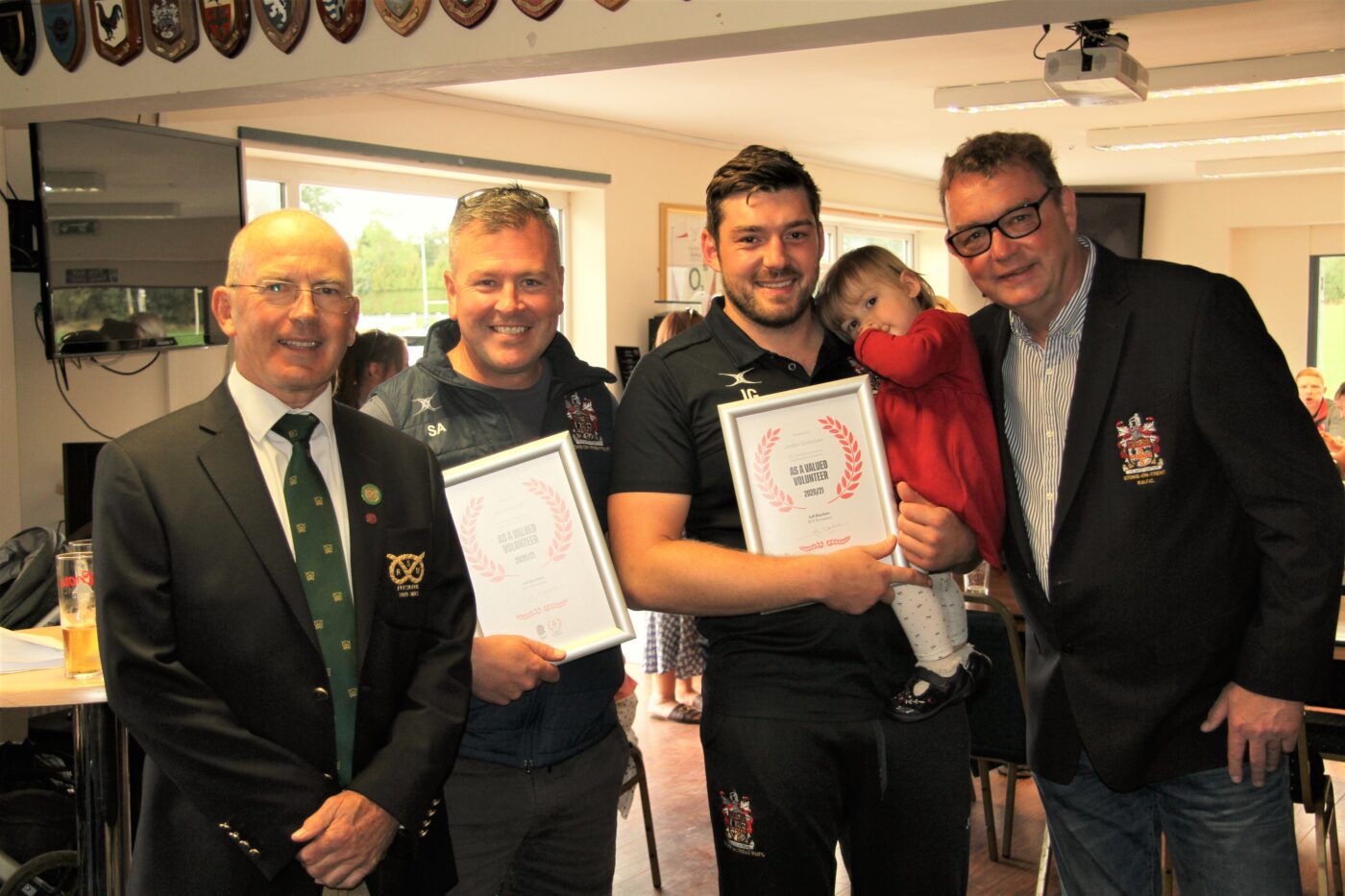 Thanks are due to Steve Maskrey, Club President Ian Sant, Vice Chair Leanne Miller and club Hon. Secretary Stephen Beck for arranging and hosting the SRU visit.
If any clubs would like to welcome a visit from members of the SRU management team on a match day from October onwards, please contact Rob Forsyth at raforsyth@hotmail.com .
We are happy to attend women and girls' and M/Y fixtures as well as men's matches.