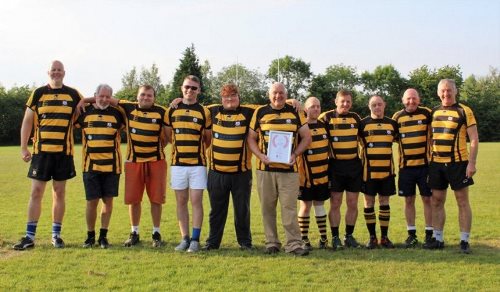 Steve Walker of Stafford Rugby Club wins the Staffordshire volunteer of the year 2019.
A rainy Monday 6th March 2017 saw the first training session for the newly formed Stafford Mixed Ability Rugby (MAR) team.
Several matches and a good few injuries later …
Monday 15th July saw the latest training session of the Marvels presided over, as usual, by Steve Walker, the newly crowned winner of Staffordshire volunteer of the year 2019.
In February 2017 Simon Northcott, of Worcester Warriors, contacted Stafford Rugby Club to discuss the idea of establishing a rugby team which enabled participation for adults of all abilities. Later in the month a small group gathered in the clubhouse to discuss the idea. Everyone was willing to give it a go in principal but it took Steve Walker to step into the role of team manager & general coach & main cheerleader & overall dogsbody to get the first training session off the ground. Between them Simon & Steve, supported by Olivia Walker, ran several sessions before the team & Steve were left to their own devices.
Steve started working with our near neighbour John Barclay, from Telford Stags MAR, to create a combined team of enthusiastic players. Together Steve & John ferry the teams up and down the country for games against Gloucester, Worcester, Swansea and Cardiff to name a few of the sides who have had to face our combined might. Not content with doing everything else Steve has unashamedly released his artistic side coming up with the design for the shirts and christening the team the "Marvels". In the culmination of his latest venture he is spearheading our invasion of Spain for a September MAR tournament.
Steve has been around for the last two years encouraging us, listening to us moan and just being there. He is the driving force behind the buzzing ball of energy which is the Marvels. We have taken on board all of his sage advice, especially in the dark art of the front three but have wisely chosen to ignore the bits which are now deemed technically illegal in the modern game. When numbers on the pitch have been low, the booming encouragement we receive from the side-line make the sessions flow slightly easier. Steve makes being a Marvel easy as all you have to do is turn up and have a go, he does everything in the background to make this possible.
Our manager will now join all of the other nominees from across the country to enjoy a totally unique day at the Mitsubishi Motors England Rugby Training Centre and Twickenham Stadium, home of England Rugby. The whole club wishes him well and hopes that he makes the top three to claim the main prize.