President of the Rugby Football Union, His Honour Judge Jeff Blackett, and his wife Sally attended a celebration of grass roots rugby when they spent a day at Stafford RUFC on Sunday 8h May.
Jeff has had a distinguished rugby career playing for various clubs including United Services Portsmouth, Hampshire and the Royal Navy where he teamed up with former Stafford player Chris Alcock. He was elected President during the 2020/2021 season and because of the Covid pandemic was re-elected for the current season. The last visit to the club by a serving RFU President was made by former England International Dicky Jeeps at the club's Centenary Dinner in 1976.
To celebrate the visit of the president, and following a tour of the club's extensive facilities when he was accompanied by officials from Staffordshire Rugby Union the president viewed a full range of rugby drills, practice games and other training activities being undertaken on the club's all-weather facility in front of the club house by the whole range of teams and groups both male and female playing at the club including Mixed Ability Rugby (MAR) and Walking Rugby.
The club which is very proud of its approach to diversity, inclusiveness, and community involvement displayed their support for two local support groups who have their home at the club in particular, local cancer support group Terrible Titties & Other Bitties, where president's wife Sally laid a wreath, and Andy's Man Club a community based mental health awareness group, who provided details of the services they offer to members.
The visit concluded with a buffet lunch, followed by presentations to Jeff and Sally, plus significant donations to the Terrible Titties, AMC and the Injured Rugby Players Foundation from funds amassed at the club's recent Charity Golf Competition held at Trentham Park Golf Club, and a lively question and answer session hosted by Jeff.
The President's visit was an enormous success for the club and Staffordshire rugby in general and will long be remembered by those who supported the day.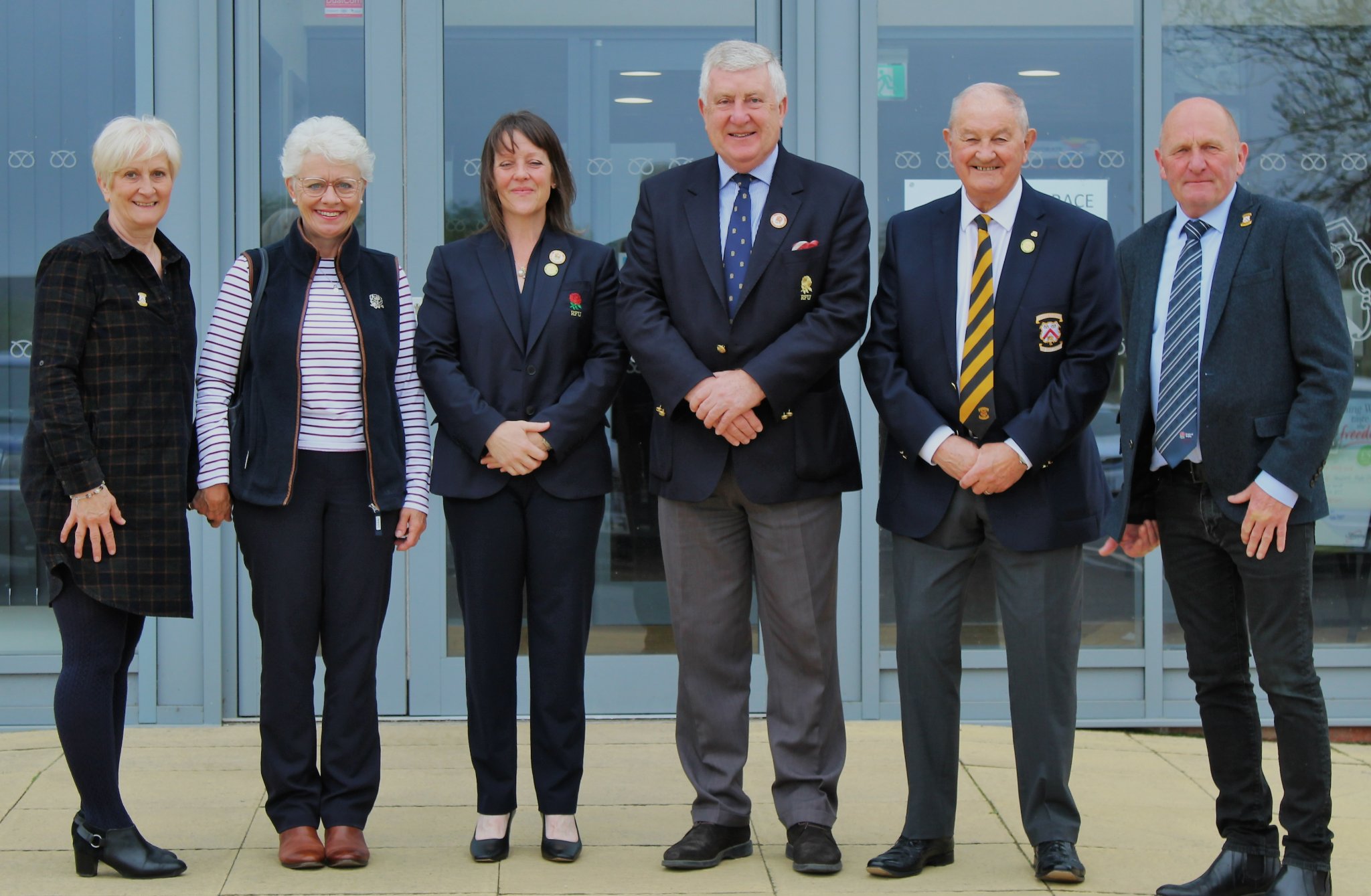 Pictured in photograph 1. are from Left to Right:
Gill Richards (Stafford RUFC); Sally Blackett; Becky Davies (Staffordshire Rugby Union); His Honour Judge Jeff Blackett; Dave Ainge (Stafford RUFC President); Keith Richards (Stafford RUFC).