After nine years on the pitch, Becky Davies stopped playing rugby 11 years ago when her team folded, becoming instead the first aider and injury therapist for the men's first 15 at Eccleshall RUFC, which she has continued to cover ever since.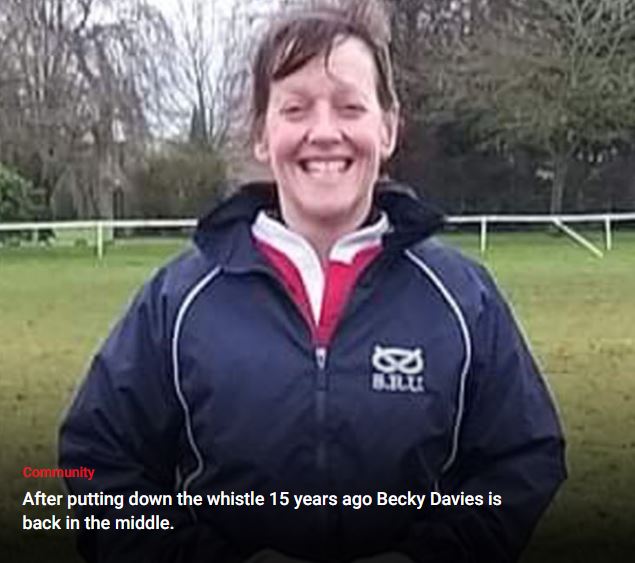 She first got involved in the game helping out with the Junior section where her children Emma and Michael played. As well as doing some coaching with the youngsters she also trained for and got her referee badge.
I mainly refereed age grade games, the highlight being a semi-final at the u12s county festival."
"I then went on to ref the occasional colts match and was thrown in at the deep end taking charge of a men's game when the ref became injured!" she recalls.
Recently, some 15 years on, at the age of 51 and post-lockdown, Becky decided to answer the RFU's call for retired match officials to get back involved.
"I decided to challenge myself and find out if I could still do the job and also to try and help answer the desperate call to recruit more match officials. Now, on the England Rugby Referee Course, I took my first appointment last weekend refereeing Eccleshall U14s v Newport U14s! I can't express how amazing it was to get back on the pitch in my shorts and be part of the play. I managed to go the full 50 minutes without a wheel falling off but managed to acquire plenty of muddy hands on my back!
"The reward was the smiling faces of the players and coaches who entered into the spirit of the game and just let the rugby happen…we had fun! Advantage was the name of the game on Sunday and it has continued during the week as I've reflected on what I did….you simply can't can't beat or buy the experience of getting back to rugby!"