Every year Volunteers' Week takes place from 1-7 June to thank the millions of volunteers across the UK, so this week we're taking the opportunity to recognise ours.
Rebecca Davies recently became the first person from England Rugby to join the World Rugby Women's Executive Leadership Scholarship.
She epitomises the statement that if you want a job done you should give it to a busy person. With many volunteer roles fulfilled in rugby, Becky embraced several other sports, built and sold a retail business, brought up a daughter and a son, retrained as a sports massage and injury therapist, and takes care of three dogs, a horse, two chickens and 20 sheep, having trained one of her dogs to work with them.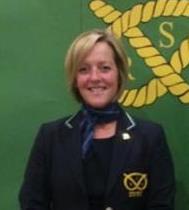 Moving to Wales with her family aged 20, in the pub she met Stuart, who played full back and invited her along to the local club, where she was soon volunteering. The pair married, relocated to Staffordshire, and Becky was persuaded to play her first rugby match for rural community club Eccleshall RUFC at the age of 32.
Since then she has served Eccleshall RUFC as a player, coach, referee, injury therapist and club secretary, while helping at Rugby World Cup 2015 and putting in a term as chair and president of Staffordshire Rugby Union.
One of 12 on the women's scholarship programme, she says: "I like to challenge myself and take on responsibility where I feel I can make a real difference. It's just my approach to life and sport as a whole."
Sport as a whole is a pretty broad church for Becky. A keen event horse rider, and riding coach, who plays golf and cricket as well as rugby, she decided just for laughs to get involved in a local half Iron Woman challenge, with a 1.2 mile swim, 54 mile bike ride and half marathon in quick succession.
"Rugby has an indescribable magic," says Becky. "Which appears whenever people get together and immerse themselves completely in the game, whether through administration, training, cleaning out changing rooms, going to Twickenham, or any other amazing stadium in the world, and watching rugby played at the highest level. There's always mutual respect and you feel like you belong to a family, with an unwritten code of trust, friendship and immeasurable support."
She wants to stay involved at the grassroots with Eccleshall, where she is both club injury therapist and secretary, for the scholarship duration.
"I'm embarking on a journey that all of my rugby family want to be part of," she says. "It's not only a responsibility for myself, the expectations of the people around me, who have lifted me to this position, are high. I was completely overwhelmed to be given this opportunity, especially as the first from England Rugby. It's such a personal thing, you literally write your own programme.
"I've spent a lot of time working with volunteers and helping them achieve their aspirations. I want to bring leadership skills back to the game, take a course in executive coaching, carry out some research across other sports to see where and how we measure up. I want to help to enrich what we have in rugby from those other sports."
She has already set up a meeting with the new CEO of British Eventing, Helen West, and you just know Becky will be knocking on doors and learning all she can from other sports leaders.
A founding member of Eccleshall Ladies in the early 2000s and captain in its first three years, she watched the side grow from just three players into a thriving team. She then started an U15 girls' team, in which her daughter Emma played, took her coaching qualifications and later became chair of the club's mini and junior section.
"Sundays were brilliant," says Becky, whose son Michael also played for the club. "I'd be running around after the minis and juniors in the morning, then travelling to a fixture in the afternoon to play for the ladies!"
Growing Eccleshall's mini and junior section from 20 players into a programme with teams in each age group, led to her becoming an RFU County Volunteer Co-ordinator. She subsequently played a pivotal role in Staffordshire's attempts to maximise the potential of RWC 2015, devising a volunteer recruitment campaign and travelling to Czechia as part of an exchange programme.
Having assisted the Match Manager at Villa Park, hosting matches featuring Australia, Uruguay, South Africa and Samoa, she said: "I just loved being in the thick of the action, ensuring everything was ready and double-checked in advance of the arrival of the international teams and their incredible players and coaches. I remember welcoming them, showing them to their changing rooms, running through their needs, essential time checks and facilitating the captains' runs. It was an indescribable feeling to be involved."
As a sports injury therapist working with professional athletes, she progressed from first aid qualification through the RFU to going back to college and attaining a Level 4 in sports massage and injury therapy. Her rugby club gets the benefit of her training and her husband Stuart played his last match alongside their son playing in his first senior game. Michael, now 23, also played at Cardiff University and Emma, who is 25, played throughout her degree at Harper Adams.
With her family very much part of her club and rugby family, Becky says getting onto the World Rugby scholarship, which will last around 18-months, was "overwhelming."
"The opportunities to network with so many incredible female leaders in rugby is phenomenal and an absolute privilege," she says. "The pandemic has shown us how much the sport means to us all and, as we start to return to the community game, the rugby magic is welcoming us back. What better time to embark on a new rugby adventure?"