17-Year-Olds Playing Adult Rugby – Suspended until 1st January 2022
With the adult league season underway, the process for 17-year-olds playing/training in adult contact rugby is suspended until 1st January 2022.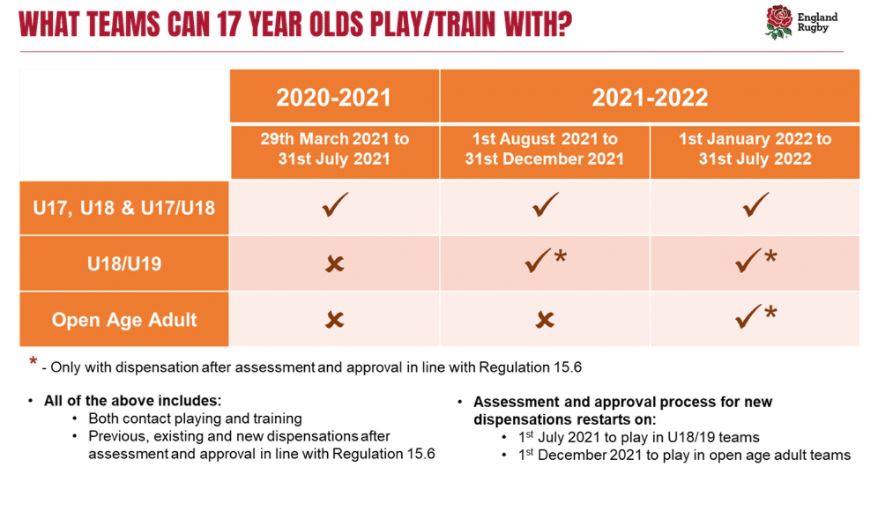 i.e. 17-year-olds are not permitted to play in adult contact training or games until this date (except for in combined U18/19 teams and for RFU approved male EAPs and female Premier 15 players).
The Electronic Match Cards system shows some clubs have played 17-year-olds in adult matches.  As a reminder, this breaches the regulation because approval has not been given by their CB and because of the suspension until January. This suspension applies to male and female players and those with a previous or existing dispensation.
Many of these players have missed the last 18 months of rugby,  with some last playing full contact when they were 15-years-old.  By playing and training in their peer group it should encourage retention of these players and allow them to prepare safely for any adult contact rugby in the future.
The chart above provides a simple reference point for this, which is taken from the Age Grade Changes document.
Age Grade Affiliation Progress 2021-22
Last weekend the number of affiliated age grade players broke the 78,000 mark across over 750 clubs.  Thank you for the tremendous effort from clubs and parents, with more users on the platform than ever before.
With age grade affiliation continuing for the next few weeks, a reminder there are step-by-step guides and videos for clubs and parents/players to help with affiliations and membership payments on the GMS Help Portal.